Blog Archives
This What to Watch Wednesday I'm doubling down and making it a Woman Crush Wednesday in honor of the return of "New Girl," for the last time…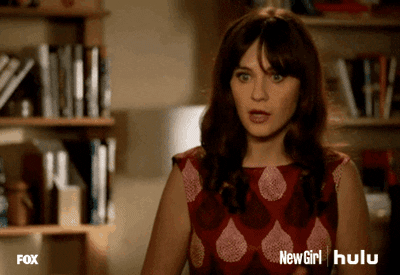 Read the rest of this entry →
It's exactly one week until Christmas.  With the final days ticking away faster than you can say gift wrap, we have one question for you:  What's your favorite color?
Yes, that's right, it's "Answer the Phone Like Buddy the Elf Day."
What other movie could we possibly choose on this the 18th of December?  It is after all, that most sacred of all the pre-Christmas secular holidays.
While you're pondering your favorite hue, and asking yourself who among your friends will hang up when you answer the phone today, let us enlighten you on just why this movie is already a holiday classic.
This fount of holiday and everyday wisdom is overflowing with sage advice we could all use a bit of a refresher course on.  Here are some of our favorites:
Stephanie:
The best way to spread Christmas cheer is singing loud for all to hear – Unless you're tone deaf and then mouthing the words is perfectly acceptable, but who doesn't love a Christmas carol?
Treat every day like Christmas – Check and check.  Maybe not all the cookies and candy canes, but we could all use a little more Christmas cheer, even in the middle of August.
Zer:
There's room for everyone on the nice list – A reminder that we can all use a little more inclusivity, optimism, and positivity in our lives.
If you see gum on the street, leave it there.  It isn't free candy – Words to live by.
What did we tell you?  It has it all and Will Ferrell and Zooey Deschanel (that's right hipsters).

Before we leave you, to undoubtedly rush off and sneak in a viewing of this modern classic, it would be remiss of us to not include the slightly less profound (and inadvisable) but still memorable lesson of an elf's four main food groups:
Candy
Candy Canes
Candy Corns
…and
Because it's important to keep things balanced in life and your high-calorie, high sugar diet.
I guess there's just one thing left to add then:  What's your favorite color?
__________________________________________
…bi-daily smile…
…the stuff of Christmas dorks' dreams
…why we love this movie…
The title says it all…
Another reason I love Joseph Gordon-Levitt and Zooey Deschanel: