Guess what day it is?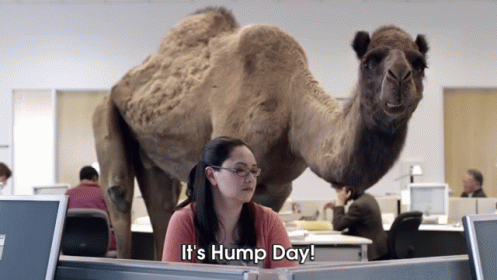 You made it, crusaders. You've arrived at the half-way point of this five-day marathon.
Your reward? Another three(ish) days until the weekend and this week's What to Watch Wednesday recommended viewing.
And because this week has definitely been longer than the others, I'm going to give you two shows, each with its own divine take on storytelling. Yep, that's right, get ready for some theologically inspired series:
"Good Omens"
When I first heard there was a series (now on Amazon Prime) being made of this book about the Apocalypse I was both intrigued and terrified. "Good Omens: The Nice and Accurate Prophecies of Agnes Nutter, Witch" a great book. But as you can tell from the full title alone, it's wacky and random and insightful and it does not read like a television show (that's a compliment). I believed they would make a good show, especially with Neil Gaiman (one of the book's authors) at the helm, but I did not expect the series to feel as much like the book as it does. Whether you've read the book or not, this end-of-days adventure is the feel-good story you didn't see coming, starring Michael Sheen and David Tennant as the unlikeliest of friends — an angel and a demon — working together to save the world. You'll laugh, you'll cry, you'll question the dichotomy of good and evil.
"Lucifer"
Speaking of exploring the gray area between good evil, this show goes straight to the top (bottom?) with the Devil himself, Lucifer Morningstar. What would happen if Satan decided to take a break from ruling Hell to investigate murders in Los Angeles? This show, which ran for three seasons on Fox before being saved by Netflix (which just announced the fifth season will be Lucifer's last), dares to answer that question. (And not so coincidentally, Neil Gaiman had a hand in this tale too.) And I know this is going to sound strange coming from the person who decided to have a Heaven/Hell theme this week, but it's really not heavy-handed with the religion (like at all) and that is why it works.
"Fleabag"
Okay, if you've only seen the first season of this genius dark comedy by Phoebe Waller-Bridge, you're probably very confused. And because I don't believe in spoilers, I'll just say that the plot of season two ruffled the feathers of the more conservative Catholics of the world. That will either inspire you to riot or skip out early to start binging all 12 episodes (if you're watching both seasons) right now. Either way I'll assume these words will go unread, but still no spoilers. You can find both seasons of this ridiculously witty show on Amazon Prime. (Oh, and Academy Award winner Olivia Colman is there too!)