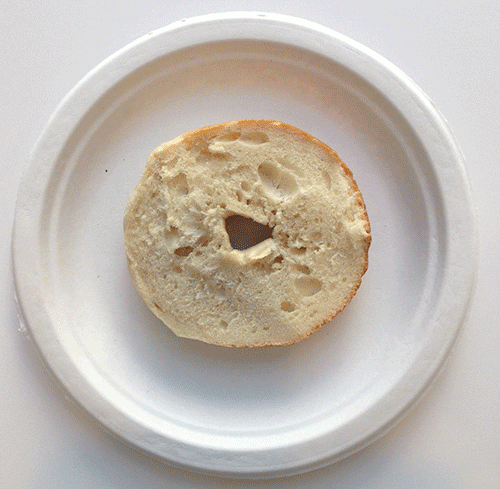 I cringe and brace for impact when I see my hometown trending on Twitter. I am sharing this because on Wednesday St. Louis was hanging out at the top of my trends and I expected the worst. I hoped it was some pre-Opening Day excitement or perhaps they finally nailed down an MLS team. I did not see #Bagelgate coming.
Full disclosure, I've been getting my Panera bagels bread-sliced for as long as I can remember. Although, in St. Louis they're called Bread Co., short for St. Louis Bread Company. If you're wondering why it's called Panera elsewhere I think the speed with which Twitter turned on St. Louis should answer that question.
Until Wednesday I thought this request was one of convenience. I now know that I am guilty of bagel abuse and/or murder (depending on who you talk to).
I am not here to apologize or explain this practice that has been dubbed "St. Louis style." I will happily apologize for St. Louis style pizza. Provel is the hotdog of cheeses and an acquired taste.
No matter how you slice it (see what I did there) Bagel-gate was eye-opening. We learned that people have very strong opinions on bagel etiquette. Some of us learned that there is such a thing as bagel etiquette. And some of us found out what it feels like to be personally victimized by  Chrissy Teigen (Et tu, Chrissy? Et tu?).
Regrettable things were said on both sides, and now it's time to forgive, forget, and make peace (or piece…get it?). Twitter, you hurt us real bad but I know we can work past this. I get that you're offended by the bread-sliced bagels, but maybe you could get to know St. Louis a little better before passing judgment.
St. Louis most definitely has its quirks, but they're a source of pride. Case and point — most didn't even know that bread-slicing bagels was a St. Louis thing before this week and now there are t-shirts (and billboards). The point is, you can hate on my hometown all you want, but they'll just keep on keepin' on with their bread-sliced bagels and their sweet new T's.
---
More on the Story: Slate
…just for fun: