Last night as many, many brackets were bruised (but not completely destroyed), the world prepared for today, a national day we never needed more. So much so that some people celebrated yesterday (thanks, Twitter). It's National Puppy Day!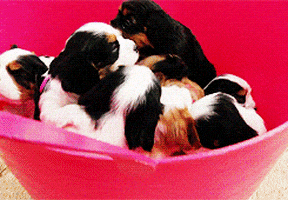 To be clear, I am not a Puppy Day purist. I will celebrate all dogs today and reserve the right to call them all (regardless of size of age) puppies, today and every day.
And I'm sorry "dog people" but because it's also Caturday, so there are no rules…
And with all the other divisions in our world, can't we put our pet preferences aside and admit that they're both fuzzy and adorable?
I mean, come on…
And that is what today is all about, appreciating and piling on the cute.
So I hope your day is full of cuteness (and no more bracket busters).
---
…bi-daily smile…