It's cold out there today. There's really no other way to put it.
The Polar Vortex is here and it is hella cold (and I don't want to hear your Elsa jokes, this is not her fault, it's clearly the work of the Snow Miser).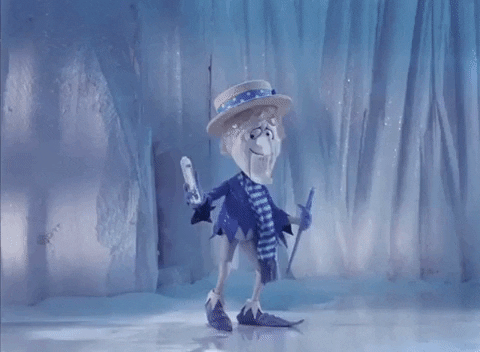 Today I think we could all use any distraction from the extreme cold outside…also lots and lots of sweaters, blankets, and layers…all the layers. While I can't help you with the layers, I can help with the distraction.
So I've pulled together some of the warmest viewing options I know to whisk us all away to warmer places and perhaps warm some hearts along the way (unlike Netflix which keeps suggesting "Polar," which just feels mean)…
"The Marvelous Mrs. Maisel"
If nothing else, the summer vacation spent in the Catskills in season two can remind you what warm weather looks like. Also, this show is phenomenal and you can thank me later.
"RENT: Live"
Except for this time, watch the version that was actually performed live on Sunday night. And for those who missed it, much the live broadcast was replaced with a recording of the dress rehearsal due to the "break a leg" well wish being taken (almost) literally. The concert version that was performed in its stead, and FOX will release with the Blu-ray version is incredible.
"The Good Place"
I'd say it's the happiest show about death you'll ever watch…but I'd say "Pushing Daisies" gives "The Good Place" a run for its money, and would coincidentally be another great viewing option for this frigid day (I suggest making sure you have pie on hand ahead of time). But back to "The Good Place" which is definitely one of the happiest shows you'll ever watch where all of the main characters are dead to begin with. It's a comedy, it's a psychological exploration, and a master class in the power of comedy. It's third season just wrapped and I already can't wait for the fourth. It really is that forking good.
"Unbreakable Kimmy Schmidt"
I haven't yet finished the final season of "Kimmy Schmidt," and part of me hopes I never will. This endlessly optimistic show about an abducted woman has been a wonderfully joyous journey and I'm not ready for it to be over. But one thing is for sure, it will end with a smile (and probably a song).
May our resilience in these frozen days be as unbreakable as Kimmy's spirit. Stay safe and hopefully inside. See you all on the other side of the Vortex.