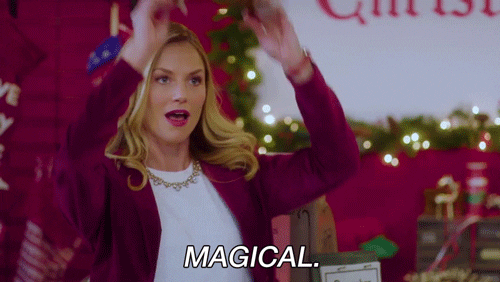 It's no secret crusaders, it's the most wonderful time of the year. I've found that sentiment rings true in very different ways depending on who you ask.
For some, it's the weather (bring on the snow, boots, and the sweaters!). For others, it's the sounds of the season (give me 24/7 Christmas music, now!). Still others, it's the tastes of the season (all the peppermint! Please.).
But this year, it would seem that Twitter has decided on its ultimate guilty pleasure of the season — the Hallmark Holiday Movie marathon. Let me introduce, #HallmarkMoviesin5Words.
If you have not yet discovered this entirely independent genre of cinema, you are in for a treat. You may think these are your run of the mill romcoms, but you'd be selling these made for TV wonders short. As the namesake network itself put it:
These movies are everything you'd expect a television network that shares a parent company with a greeting card company to create. They have series and movies for every season of the year, but Christmas is when things get really serious.
Strangely (or perhaps appropriately) this drinking game (which you should never play…these films do not half-do any of these) summarized the genre quite well.
And Hallmark may have the biggest brand name, but they are not the only ones who've jumped on this bandwagon. You may have caught a previous mention (or twelve) of "A Christmas Prince," which is just one of many "Hallmark" movies Netflix has now added to its library.
I know these collections of yuletide sap, wrapped in tinsel, perfect hair, and winters that are both picturesque but still allow for fashionable outerwear choices, are not for everyone. And that's okay…
But, if you're in the mood for a couple hours of uncomplicated, seasonal joy…that will probably center around a baker/journalist/decorator/teacher/lawyer/princess who meets a baker/journalist/decorator/teacher/lawyer/prince who she doesn't care for at first (but first impressions are usually wrong in the Hallmark universe) with everything working out (with perfect hair and snow) on Christmas, you can't do better than these bundles of comfort and joy.
Happy (like really, really, really happy) viewing!
And for the record: Happy ending with Christmas snow. #HallmarkMoviesin5Words
---
…bi-daily smile…