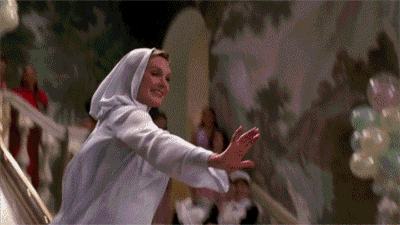 Yesterday, as we all marched our engaged citizen selves to the polls, I hope everyone was able to take a moment to appreciate that we live in a country where we have that right. A country where we have a government that, despite its shortcomings, can be pretty remarkable. And that's made possible by balance. It's something we all need.
In the case of our government voting is a huge piece of that balance. In our own lives, balance means taking a moment to regroup and rest every now and then…especially after the latest election cycle. The next one is due any moment, so soak in the rest while you can.
That's why this What to Watch Wednesday, I'm sharing shows and movies that are pure, pure joy. Because we've all just survived months of political ads, 2020 is at our doorstep, and gosh darn it, we deserve nice things!
So, if you need a breather, here are a few uncomplicated simple joys to revel in, if only for a moment…
If you're looking for a sweet (and at times profound) trip down memory lane to the 80s (even if you don't technically remember them), do I  have the show for you? "The Goldbergs" will have you smiling and longing for the 80s you never knew (possibly literally), but will wish you had…
"Jane the Virgin" is one of the greatest things to happen to television. Yes, that's the end of that sentence. I can't possibly do the show justice in just a few sentences, you're just going to have to watch it.
And while its plot has gotten borderline tragic, the soapy, sweet nature of FreeForm's "Young & Hungry" will turn that frown upside down in no time…
But, in case of emergency, I recommend a large serving of whatever is on the Hallmark Channel…or in the direst of cases, the greatest of Julie Andrews' sequels, "Princess Diaries 2." Remember to handle with care. Over-exposure could lead to incessant smiling and mattress surfing…