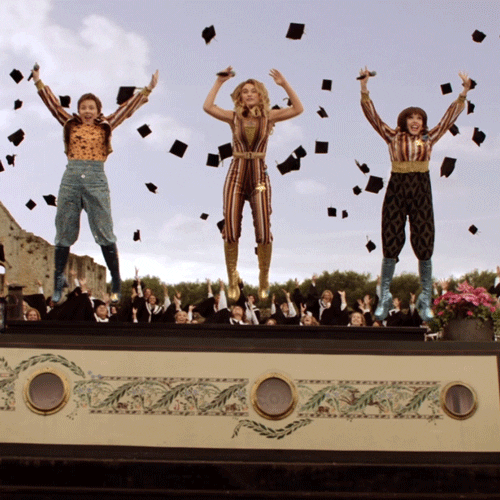 The time has come, crusaders, to roll the credits on another summer of blockbusters. But what a summer it was. From super sequels to a "Mamma Mia!" sequel beyond our wildest dreams to some surprise rom-coms.
It's hard to believe fall is nearly here, but PSL season will not be denied, so today we take a look back at the highlights this season had to offer — the highs, the lows, the musical numbers — as we say a fond farewell.
Biggest Surprise:
Zer: "Crazy Rich Asians" — I cannot stress enough how nice it was to have a romantic comedy to break up the adrenaline and action fueled summer. I love me some action/superhero films, but sometimes you need a break, and what a break this film was. It's funny, sweet, and in case the title didn't already give it away, it starred a ton of Asian actors. It was a nice reminder of the power of diverse storytelling.
Stephanie: "To All the Boys I've Loved Before" — This surprised me in the truest sense, in that before it showed up on Netflix, the Summer of Blockbusters was going to be a week shorter. But this simple, well-done movie was too good to pass up, and a delightful deviation from the blockbuster fare of the summer season.
Biggest Disappointment:
Zer: "Solo: A Star Wars Story" Han Solo is one of the characters that made "Star Wars" into the classic it is today. Han Solo is Harrison Ford and Harrison Ford is very much Han Solo. It's a fun and enjoyable film, but it never seems to capture the magic that is Ford's Solo. Making an origin story with someone else playing the part was always going to be a risk, unfortunately, it didn't pay off. And for the record, you know it was a pretty strong summer when the biggest disappointment is still a good movie and directed by Ron Howard.
Stephanie: "Mission: Impossible — Fallout" — Honestly, if this movie hadn't been so built up with its 97% score on Rotten Tomatoes, I would not have held it to the standards that I did. But it was, so I did, and here we are. To be clear, this is not a bad movie. It's just as much fun as all the other MI movies, which I love. It just served as a stark reminder of the lack of representation in the world film critics. So, in conclusion, my biggest disappointment of the summer is the ridiculous shortage of the female perspective in the world of film critics.
Best Villain:
Zer: Josh Brolin as Thanos in "Avengers: Infinity War" —  A great villain is complicated. You usually don't agree with them (I'm still haunted by Spidey and Gamora's exits), but you can understand them. They don't make decisions lightly, and they usually provide pretty sound (if lacking in compassion) reasoning behind their actions. Thanos takes all this to a whole new level, and like any great villain, sees himself as the only one capable of making this decision for what he sees as the greater good. It's a character that takes villainy to a whole new level and a performance to match.
Stephanie: Josh Brolin as Thanos in "Avengers: Infinity War" —  The snap heard round the universe was hard to beat this summer, but what made Thanos a great villain went far beyond the impact of his actions. This ultimate villain works because, against all odds, we can tell he thinks he's doing the right thing. It's confusing, confounding, and other synonyms of perplexing, but it's clear. (And an honorable mention for the villain of "Incredibles 2" …but that's all I can say about that.)
Best Performance:
Zer: Everyone in "Mamma Mia! Here We Go Again" — Call it what you will, I'm refusing to pick favorites here. Everyone brought their A-game, even those who weren't quite as gifted vocally. Just like the original film, this sequel is pure joy, even with the obviously sad plot point. They managed to capture lightning in a bottle all over again, and if you don't agree with me that's your prerogative, but we probably won't be friends.
Stephanie: Lily James as Donna in "Mamma Mia! Here We Go Again" — There was a lot to live up to in this long-awaited sequel and while it was a team effort, Lily James had the truly heavy lift here. The good news is she belted and danced her way through it like the pro that she is….and I am beginning the countdown to the next "Mamma Mia!" sequel now. The world demands it. (And an honorable mention to Tom Holland in "Avengers: Infinity War," for the scene that we will not talk about.)
Best Picture:
Zer:  "Incredibles 2" — I went into the movie hoping for the best, but bracing for the worst. It was perfection. It may have taken far too long to follow-up with this incredible family, but Pixar used their time well.
Stephanie: "Incredibles 2" — It may have taken 14 years, but this super, smart sequel was more than worth the wait…but maybe don't make us wait as long next time.
---