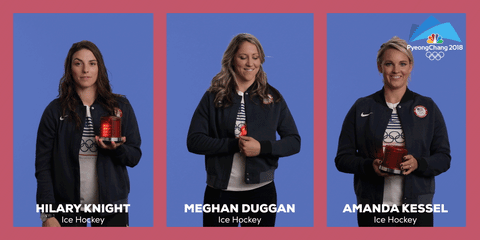 In some ways, it's hard to believe we're already three-quarters of the way through the way through the 2018 Olympics. In others, it's felt like an eternity.
Over the last week and a half, there's been a constant flurry of Olympic action. It can be hard to know where to look when everything seems to be happening at the same time.
Tonight, that decision will be a little bit easier for the U.S. and Canada as the women's hockey teams go head to head for Olympic gold.These two teams have found themselves competing against each other for this spot four times before, and I'm sorry to say the U.S. has only skated away with gold once.
Win or lose the U.S. women's team will move within five of the men's all-time medal count. A feat made even more impressive by the fact that the men's team has been competing since 1920, and the women's event was not introduced until the 1998 games. They'll also have medaled in every single one of the games they've been allowed to compete in (that's 6 for those who don't want to do the math).
That being said, it would be really nice to get a win tomorrow. If they do win, they'll tie the men's team for number of Olympic gold medals.
So how can you take part in this moment of Olympic history? Well, I'm not going to lie, it won't be particularly easy. But it's also a lot easier than dominating women's ice hockey.
The game airs on NBCSN and/or you can stream it at NBCOlympics.com. Then there's the fact that the puck drops just after 11 ET/10 CT (PT people, I don't want to hear your excuses), which means Thursday could be a real treat. However, just imagine the national pride you'll feel knowing you watched it all live. That and there's always coffee.
To our polite neighbors from the north, best of luck. May the best team win, and I cannot stress this enough, we could really use a win. Thanks.
---
More on the Story: NPR
…just for fun: