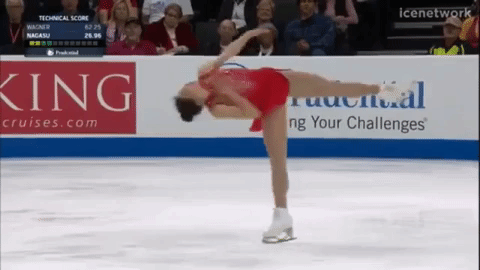 This Tuesday, some of us find ourselves staring down a four-day week, and likely need all of the motivation we can get.
Lucky for us, we're in the middle of the Olympic Games, one of the most universally motivating global events, so we don't have to look too far.
And as easy as it is to be inspired by the victories, what I find almost more inspiring is seeing how these stars recover from their failures, and nowhere is that more immediate than in figure skating and ice dancing.
Stumbles and falls (and other mishaps) are not uncommon in these sports, and while they're gutwrenching, the show must go on, and it must go on immediately.
These games have had no shortage of those moments from figure skating superstar Nathan Chen's six-quad performance following a rather rough start to the Games and even after he was for all intents and purposes out of medal contention.
But one of the most incredible moments of going "on with the show" has to go to the French ice dancing team of Gabriella Papadakis and Guillaume Cizeron who managed to not only skate through an unfortunate wardrobe malfunction, but they did it while holding onto the second place slot. Not to mention the fact that they came back the next day and kicked some serious ice and hold on to that silver medal.
As the saying goes (more or less), "If you learn from failure, you haven't really lost," and if you do all that while smiling and pulling off a triple axel, you're probably an Olympian. May we all learn from our stumbles, whether they're literal or metaphorical, we'll all be stronger for it.
---
…bi-daily smile…