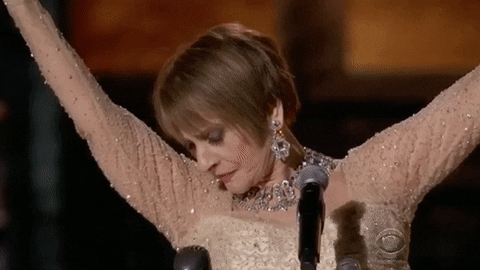 This Monday, music fans are, no doubt, recovering from last night's top honors and incredible performances. And who am I to get in the way of continuing that celebration?
Last night's festivities included a truly iconic moment featuring a truly iconic performer. As a tribute to Sir Andrew Lloyd Weber, Patti LuPone performed the song that made her famous, "Don't Cry for Me Argentina," from "Evita."
Following this earth-shattering performance from one of the greatest divas of our time, it became (painfully) clear that some music fans did not fully understand the magnitude of what they had just witnessed. I'm not here to judge, we all have our own personal knowledge gaps, but you better believe I am going to fix this.
So, today's Monday Motivation comes courtesy of the one, the only, the great Patti LuPone.
First, some reading material: 5 things to know about Broadway legend Patti LuPone, who brought down the house at the 2018 Grammys (Hello Giggles)
The musical journey of Patti LuPone includes some of the greatest female roles of modern theater. They're all unique, and all fierce.
Let's start at the very beginning (which was actually Patti's 12th Broadway credit) with a song that will put some pep in your step this Monday…
From there let's bring things down a bit for a showstopping number from one of the greatest supporting characters in musical theater, Nancy…
Next up is Reno Sweeney of "Anything Goes" who is gumption incarnate…
Controversy may have at one time clouded the view of "Sunset Boulevard," there's nothing scandalous about the vulnerability and power of this performance…
And she might be a little murderous, but gosh darn it if she isn't charming as all get-out as Mrs. Lovett…
Finally, I'll leave with a lesson in how to give yourself a pep talk from one of the greatest mothers of musical theater ever…
Now go forth and be the Patti that you need to be today.