This Friday we find ourselves on the very edge of Oscar season, crusaders. Film buffs are getting their final thoughts in before the nominees are announced next Tuesday, everyone is eager to see what this year's select few will be.
Everyone has their own opinions and their own award prediction litmus tests. There are the Golden Globes to consider, the SAGs and from our British brethren, the BAFTAs. At the end of the day, we just have to wait and see.
So, this Flick Friday, I'd like to present, for your consideration, a film with not one, not two, but three BAFTA nominations, not to mention a "Lady Bird"-dethroning 100% score on Rotten Tomatoes, "Paddington 2."
Yes, that "Paddington 2," and you can check your cynicism at the door because you're not going to need it.
This superb sequel jumps right into this bear  (from darkest Peru) called Paddinton's (voiced by Ben Whishaw) life in London. And what a life it is.
With one grump of an exception, the city has embraced Paddington with open arms and Paddington wants nothing more than to share that joy with his Aunt Lucy (Imelda Staunton), who you'll recall is still in Peru living in the home for retired bears.
Since she can't come to London, Paddington sets his sights (and incredible work ethic) on sending it to her in the form of a very valuable, antique pop-up book from the shop of Mr. Gruber (Jim Broadbent). 
With the support of his family Mrs. Brown (Sally Hawkins), Mr. Brown (Hugh Bonneville), Jonathan (Samuel Joslin), Judy (Madeleine Harris), and Mrs. Bird (Julie Walters), Paddington is just barely shy of his goal when he happens upon a thief breaking into the shop and taking the very book he was saving to buy.
Being the hero that he is Paddington does his best to stop the robbery, but merely implicates himself in the process. A short trial later, Paddington finds himself staring down a ten-year sentence…and yes, it is adorable…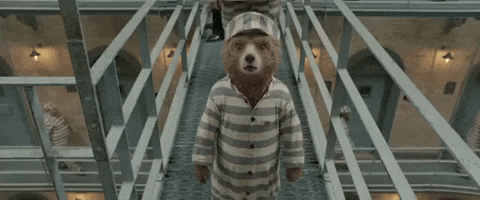 It's also tragic, moving, and touching. And that kids (and not-kids), is what makes this movie so incredibly excellent.
Yes, you know that everything is going to work out because it's Paddington and his optimism and decency always see him through, but the journey has ups and downs,  marmalade shared, laughs, tears, and lessons learned.
Also, there's Hugh Grant as the washed-up actor (but nobody tell him) Phoenix Buchanan, which is quite possibly the best role, I have ever seen him in…and yes, that includes…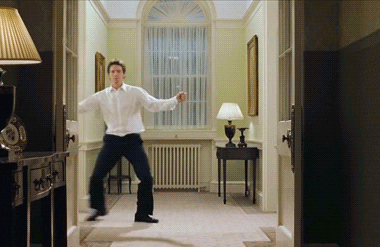 This "master of disguise," and insurance client of Mr. Brown's coincidentally, is a perfectly ridiculous adversary and an absolute delight to watch.
The same goes for the rest of this beautiful movie. And I mean that in both the sentimental and literal sense too. The animation is mindblowing and the side-vignettes are as stunning as they are superbly integrated. You'll weep not just for the poignant moments of honesty, but also for the painstakingly tight storytelling. Not a detail goes to waste.
Then, of course, you'll smile at the sweetness of this bear, his family, and the world in which they live. It's enough to make one look for and cherish the Paddington(s) in our own lives, and dare I say, strive to be one ourselves.
---
…bi-daily smile…