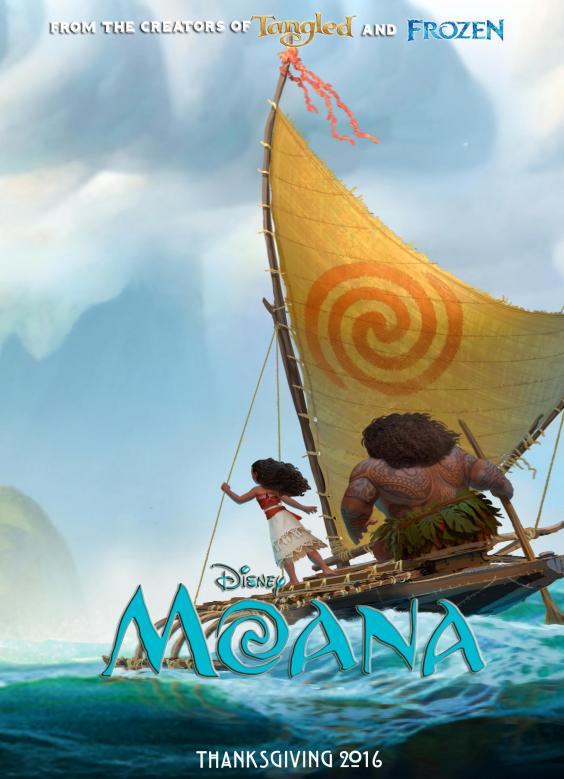 Just when you finally got "Let it Go" out of your head, it's time for another Disney princess. Thankfully, "Moana," is more than a worthy successor, although she'll be the first go point out that she's not a princess…in spite her amazing hair and animal sidekick.
In many ways, "Moana," seems like more of the same from Disney. It follows a familiar storyline. Spunky princess, Moana (Auli'i Cravalho), wants more than her future that seems to already be planned for her. In this case, she's being groomed by her father, Chief Tui Waialiki (Temuera Morrison), to be the next leader of her village. From a young age, Moana is drawn to the water (quite literally at times), but banned by her father from sailing beyond the island's reef.
When a mysterious and ancient darkness threatens the island, Moana takes matters into her own hands. With instructions from her quirky and adorable grandmother (Rachel House), she sets out to find the demigod Maui (Dwayne Johnson), and force him to return the heart, a life creating stone, he stole from the island goddess Te Fiti.
Where Moana sets herself apart from other Disney princesses—she goes alone. Not only does she head out on this adventure solo, she also makes it the entire film without a love interest.
Of course, she does pick up a few companions along the way. It turns out that her pet rooster, Heihei (Alan Tudyk), accidentally stowed away, but he's more of a hindrance than an asset. She also gets some help from Maui, who it turns out is an arrogant prick, who seems to benefit more from their interaction than she does.
It's a funny, sweet, smart film with some relevant themes about female power. As you may have guessed, Moana turns out to be more powerful than she had thought. She doesn't just fight the monsters, she listens to them too. She not only saves her people, but changes and expands their world.
To call "Moana" relevant, seems like a bit of an understatement. This story about a powerful young woman and a goddess that was robbed of her power by a pompous demigod seems painfully familiar. Of course, there is one major difference, this being a Disney film, the demigod learns the error of his ways and a touch of humility along the way.
---
…just for fun: